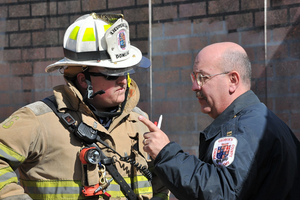 Firefighter 101–Leadership Starts on Day One!
A firefighter joining the fire service enters the profession with minimal understanding of the day-to-day reality of being a firefighter.  Firefighters often learn their craft through observation and practice, eventually imitating those in charge.  Shift after shift and call after call, their knowledge and experience grow exponentially until they eventually are promoted and placed in a position of leadership and mentoring.  Promotions in the fire service lead to more responsibility, but the essentials of being a successful leader develop and emerge years before a promotion.
How does a firefighter prepare for the responsibility of leadership?
The foundation for becoming a good leader should start on day one at the firehouse.  Leadership qualities need to be instilled at a deep-seated level so they become automatic.  Developing the following key areas early in a career, applying them daily on every incident and public interaction, will set the stage for leading others.
Character–Character involves having an awareness of what is important when directing your life, often described as your core values. It is important to dedicate some time each day to consider what matters most to you and how that influences your behavior. Examples of character are trustworthiness, responsibility, respect, caring, fairness, courage, diligence, and integrity.  In your day-to-day actions and in the performance of your duties as a firefighter, which of these values do you incorporate into actions?  Are you honest in your documentation and paperwork? Do you treat members of your team and the citizens with understanding and fairness?  Does your employer describe you as dependable and reliable? It is never too early to examine and define your core values.
Credibility–Credibility is another key component of leadership.  There are three central elements for establishing credibility.  The first is creating trusting relationships, which begins when members of your crew believe in you and count on you because your words match your actions.  The second part of credibility is competence.  It is important to commit to the continual learning of your craft by taking classes, attending conferences, reading journals, and participating in conversations that promote an understanding of your profession.  The third is your passion for your career. Passionate firefighters are infectious, resulting in people around them engaging more fully.
Accountability–Accountability in leadership is about ownership.  Ownership is taking initiative and doing the right thing for a positive outcome.  It is recognizing that other team members are dependent on the results of your work.  Accountability involves self-reflection to evaluate your actions in various situations while extracting important lessons that empower positive responses in the future.  Goals are at the heart of accountability. Think about the goals you have set for yourself daily, weekly, monthly, and years into your future.
Service–It is never too early to practice and model service-like traits. Think about why you help others; maybe you help a friend who is sick/family member/coworkers. Whatever the reason, with an understanding of why service is important, it is easier to adapt those traits into firefighting. The experience of serving people translates into values that others can emulate:  kindness, empathy, and volunteerism.  True leadership is selfless.   
Confidence–Leadership grows out of confidence. It is the belief that you can succeed at the task at hand–often called self-esteem.   Confidence decreases when situations are unfamiliar; it is important to pay attention to your external dialog when challenged.  Confidence is achieved by learning from your mistakes and making a continued effort to improve.  Without confidence, you will second guess your decisions and find yourself being defensive when challenged. The efforts you put into preparing for all of the unknowns of firefighting will enhance your knowledge and develop confidence.
Leadership skills become an instinct.
Most actions in the fire service come with great responsibility, and that responsibility grows with each assignment and promotion.   Self-awareness is an essential quality to develop as early as your first day as a firefighter.  It exposes your limitations and gives you valuable insights to project and play to your strengths. Fire crews benefit far more from firefighters who take responsibility for what they don't know than from those who pretend to know it all.  If you start early in your career by building the foundation and principles on which your decision making originates, you will find yourself in a place where leadership isn't a choice but has become an instinct.
Written By: SUSAN TAMME is a district chief with Tampa (FL) Fire Rescue and a 23-year veteran of the fire service.  She is a fire instructor III in Florida and has an MA in education. She is a member of FL-TF3 and the department's hazardous materials team. She is an experienced ladder and heavy rescue officer. She is on the iWomen (International Association of Women in Fire & Emergency Service) Executive Bboard in the position of secretary.
---