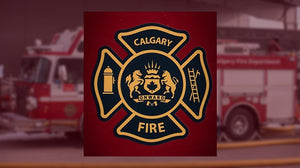 Calgary Fire Department Technical Rescue
At approximately 10:50 on the morning of Wednesday, August 31,  Calgary fire crews including the CFD technical rescue team, responded to  a construction site at the 2900 block of 17 Avenue S.W. for reports of a workplace accident.  The 9-1-1 call indicated that a construction worker had fallen down a  concrete shaft at least 25 feet below street level and sustained significant injuries as a result.  
The CFD technical rescue team set up a tripod above the opening so that a firefighter and CFD fire response paramedic could be safely lowered down into the shaft to assess the patient.  Air monitoring of the confined space was performed to ensure  adequate air quality for the safety of the patient as well as the two rescuers.  The patient was then secured so that he could be safely lifted out of the hole. Once the patient was removed, his care was then transferred to waiting EMS personnel where he was then rushed to an area hospital. 
Occupational Health and Safety has been called to the scene to investigate this workplace accident.
---