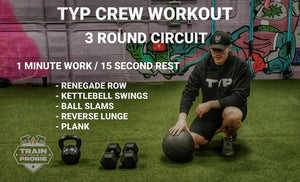 TYP Crew Workout #1
Welcome to a new part of our YouTube Channel where WE get to workout alongside YOU and YOUR CREW. We will be posting multiple Crew Workouts a month that you can now use to get a good station workout in while on shift or off duty. These workouts are going to be done in a way that everyone on your crew can get involved no matter their current level of fitness. This is not a competition, but more so a call to action of getting our brothers and sisters off the recliners and onto the bay and gym floors to put in some work together. Nothing builds better camaraderie amongst a crew than doing hard shit, suffering together and coming out the other side a stronger unit.
This first crew workout is as follows:
3 ROUNDS
1 MINUTE WORK / 15 SECOND REST
Renegade Row

Kettlebell Swings

Ball Slams

Reverse Lunge

Plank
We hope you enjoy the workout and don't forget to subscribe to our YouTube channel to get notifications when we upload new CREW WORKOUTS!
---