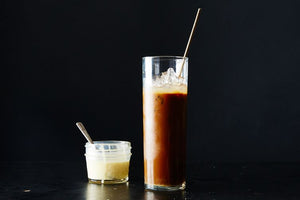 Vietnamese Black & White Espresso
Sometimes our plain espresso needs a punch to really take it to the next level! This drink is sweet, packs a punch and is as easy as pulling 2 shots and opening a can! Not only will you enjoy this drink, it will impress your friends when you make this for them!
What is a Vietnamese Black & White Espresso?
This drink is a new take on a classic Vietnamese iced coffee! This can be served iced or warm… that is up to you! There are 3 ways we can make this drink; espresso shots, cold brew concentrate, and drip coffee! One thing to remember…. enjoy your drink when you are finished preparing it!
like we said earlier, there are three ways to enjoy this beverage; espresso shots, cold brew, and drip coffee!
what you'll need from Inferno Coffee Company
Coffee!

mug 

or

 tumbler

condensed milk
How to make Vietnamese Black & White
grab your Inferno Coffee and either prep your concentrate, brew your drip (4-8 oz of drip of cold brew concentrate) or pull your shots of espresso
open your can of condensed milk and pour 1/2 oz. into the bottom of your glass cup
fill your glass with ice and pour your coffee of choice over the ice and condensed milk
stir your ice cubes and condensed milk into your coffee and enjoy!
---
---