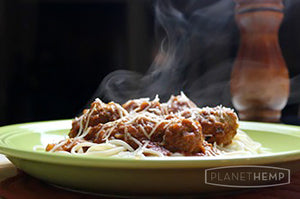 Vegan Hemp Meatballs
Healthy hemp meatballs that taste just like the real thing. This version is easy to digest and full of flavor. Serve with gluten free pasta, in a wrap, on a bed of quinoa, as a savory breakfast or on their own. Perfect comfort food.
INGREDIENTS
2 cups rinsed or sprouted lentils (sprouted for 2 days)
3 cups vegetable stock
½ cup finely chopped onion
2 cloves garlic, finely chopped
2 tbsp coconut oil
1 cup of mushrooms, sliced (shitaki if available)
1 tbsp dried thyme
1 cup nutritional yeast
1 cup Hemp Seed Meal (or almond meal)
½ cup rice flour (or other gluten free flour)
Salt and pepper to taste
DIRECTIONS
1. In a medium-large pot, combine the lentils, vegetable stock, onions and garlic and bring to a boil. Turn down the heat, and let the lentils simmer, covered, for about 20-25 minutes, or until very soft. Remove from heat and mash well with a potato masher or fork.
2. Meanwhile, heat the coconut oil in a small skillet over medium-high heat. Add the mushrooms and thyme and sauté until the mushrooms are very soft, about 4-6 minutes.
3. In a food processor or blender, combine half of the lentil mixture with the mushrooms, ground flax seeds and nutritional yeast and process until smooth. Add the processed mixture to the remaining lentil mixture and mix with a wooden spoon until combined. Gradually stir in the rice flour, 1 tbsp at a time, until the mixture holds together. Allow the mixture to reach room temperature before forming into balls.
4. Cook the lentil balls. Heat a small amount of oil in a heavy-bottomed skillet over medium-high heat. Add the lentil balls to the hot oil, cooking only as many at a time as will fit without touching one another. Cook, flipping the lentil balls to brown them on all sides, until they're golden brown, about 4 minutes. Repeat until all of the lentil balls are cooked. Toss with a warm pasta sauce and cooked pasta, enjoy them in a sandwich, or eat as they are.
---