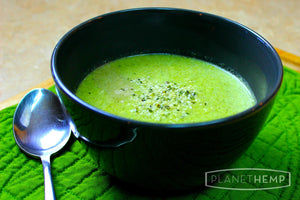 VEGAN BROCCOLI SOUP
This colorful soup is both delicious and nutritious.
INGREDIENTS
1 tbsp coconut oil
3 cloves of garlic minced
1/4 cup onions chopped
2 cups of chopped broccoli
2 cups Homemade Hemp Milk
2 tbsp coconut oil
3 tbsp PlanetHemp Hemp Seeds
1 tbsp thyme
1/2 tsp paprika
salt and pepper to taste
DIRECTIONS
In a medium sized pan sauté garlic, onions and broccoli on medium heat until soft. Add remaining ingredients. Use a hand blender or pour into a blender and pulse until smooth or desired consistency. Sprinkle with PlanetHemp Hemp Seeds and enjoy!
---