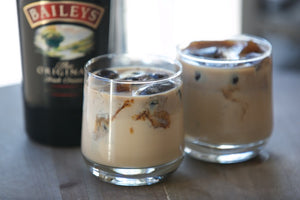 TYP & Bailey's Brew with Cold Brew Ice Cubes
I mean who doesn't like a good Irish coffee? Well guys, we are making a modified Irish coffee because at Inferno we don't want to hide the flavor of our coffee behind a sugary cast! We want the liquor to shine through with our delicious coffee roasts!
There are a few ways you can make this delicious brew; iced or hot! Either way we like to use espresso shots for our Bailey's Inferno Brew! Trust us when we say its the best way to drink it!
Okay now that you are all salivating…. let's freakin' brew!
Inferno Coffee & Bailey's Brew with Cold Brew Ice Cubes Recipe
Let's make this in sections!
Cold Brew Ice Cubes:
Ingredients:
Steps:
brew some delicious cold brew (or use coffee from the day)
pour into your ice cube trays
freeze overnight for best results but a few hours will work too!
Inferno Coffee & Bailey's Brew:
Ingredients:
1 1/2 oz of  Bailey's Irish Cream (purchase at your local liquor store)
2 shots of Inferno espresso 
cold brew ice cubes
Steps:
make sure you have your ice cubes frozen enough to chill your drink
put your cubes in a cup or mug of choice
pull your espresso shots and pour over the ice
measure out 1 1/2 oz of Bailey's Irish Cream and pour over your espresso & ice cubes
drink responsibly and enjoy your classic Irish coffee!
---
---