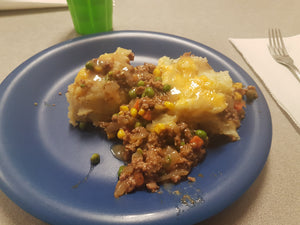 Sweet Potato Shepherd's Pie
Good for a cold day or if you want some good left overs.
Recipe for 6 people
INGREDIENTS
1.5 kg of Lean ground beef
1 Diced Yellow Onion
2 cans of Golden mushroom soup
1 Diced Jalapeno
4-5 Sweet Potatoes
1 bag of Frozen Veggies 750g
2-4 cloves of diced garlic
1 tbs of Pepper
1 tbs of taco seasoning or chili pepper
½ tbs of Salt
Grated cheese (optional)
THE BUILDING PROCESS
Peel and chop sweet potatoes. Place in pot of boiling water. Cook until tender to mash. Approximately 20 mins. Mash sweet potatoes.

Cook ground beef in large frying pan. Drain fat if needed.

Add garlic, jalapeno, and onion to beef. Continue to cook.

Add both cans of mushroom soup, pepper, taco seasoning, salt, and veggies into beef mixture. Simmer until potatoes are finished.

Place beef mixture into medium roaster pan. Spread out evenly.

Cover beef mixture with mashed sweet potatoes.

Top with cheese and place in oven at 350 degrees for 10 mins to melt cheese.

Serve
Good luck! Always keep the best donair shops number close by..
Brought to you by: Chef Petey 
---