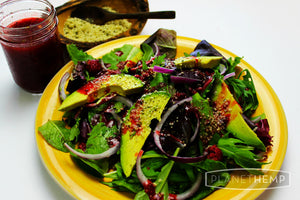 SPRING BERRY SALAD WITH SWEET BERRY HEMP OIL DRESSING
Enjoy this Spring Berry Salad with its Sweet Berry Hemp Oil Dressing any time of the day!
INGREDIENTS
2 large handfuls of fresh organic salad mix
1 container chopped cherry tomatoes
1 cup fresh-cut strawberries
1/2 cup slivered red onion
1 avocado
Sweet Berry Hemp Oil Dressing
1 cup fresh raspberries
1 tbsp cane or coconut sugar
2/3 cup apple cider vinegar
1/4 cup PlanetHemp Hemp Oil
1 tbsp honey
1/2 tsp salt
DIRECTIONS
Add all ingredients in a Magic Bullet and let it sit for 10 min before blending. Gently pulse and serve.
Sprinkle with PlanetHemp Hemp Seeds for extra goodness!
---