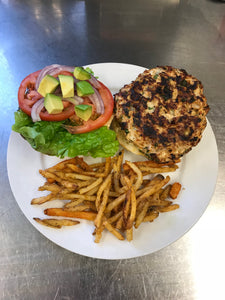 SPICY FETA TURKEY BURGERS
Want to switch it up from the normal beef burgers? Trying a healthier option with switching to
ground turkey or chicken. This is a pretty easy recipe for the fire hall

INGREDIENTS (for 8 Firefighters)
1200g Ground Turkey
500g Hot Sausage
1 Egg
200g Chopped Feta Cheese
2 cups Chopped Spinach
1 cup oats
1 Diced Jalapeno
1 Diced Yellow Onion
¼ Cup of Worcestershire Sauce
1 tbsp Chilli Powder
1 tsp Pepper
1 tsp Salt


STEP 1
Mix all ingredients in a large mixing bowl. Mix well so all ingredient are distributed evenly.
STEP 2
Evenly divide mixture into required number of burgers, depending on the number of
firefighters working at your station. Flatten out burgers in your hand and place onto a baking
sheet covered with parchment paper. Not to thin or they will fall apart. About 1 inch thick.
STEP 3
Warm up BBQ for a few minutes. Set at a Medium Temperature. Don't put Burgers on a cold
grill or they will stick (Bad news). Cook time is 20 minutes. Place burgers on the grill. Turn
burgers 90 Degrees at 5 minutes. Flip burgers at 10 minutes. Turn burgers 90 degrees at 15
minutes. Remove from bbq at 20 minutes or longer if needed. The Grill marks will impress
your crew.
STEP 4
Serve Burgers on buns with toppings (lettuce, tomato, red onion, Avocado) or no buns at all.
Combined with a side like fires or a spinach salad.


Good luck! Remember if you screw up, you can always order a pizza.
Prepared By Chef Petey
---