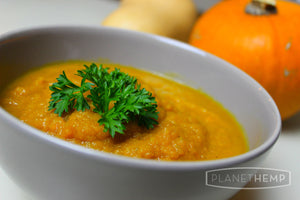 PUMPKIN HARVEST HEMP SOUP
This vibrant autumn favorite is quick and easy to make. Delicious with gluten free pita bread.
INGREDIENTS
2 tbsp coconut oil
1/2 chopped onion
2 cloves of garlic, chopped
1 cup of carrots
1 cup chopped squash
1 can pumpkin puree or chopped pumpkin
1 cup veggie broth
1 tbsp PlanetHemp Hemp Oil
1 cup Homemade Hemp Milk
4 tbsp PlanetHemp Hemp Seeds
1/4 tsp of each: cayenne, paprika, turmeric, thyme
salt and pepper to taste
DIRECTIONS
In a medium size pan on medium heat, sauté the onions in coconut oil until translucent. Add the chopped garlic and sauté for another minute. Add the carrots and squash and gently sauté for another minute and add spices. Cover the pan until tender, about 8 minutes. Add the veggie broth and puree with hand blender or transfer to a glass blender. Pulse until smooth. Add in the hemp milk, hemp seeds, hemp oil and more salt and pepper to taste. Blend until mixed and serve!
---