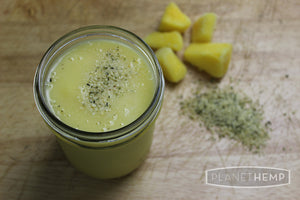 PINEAPPLE HEMPRESS SMOOTHIE
Pineapple is full of fiber and bursting with sunshine sweetness.
INGREDIENTS
1/2 cup frozen pineapple
1/2 cup frozen mango
1 frozen banana
3 tbsp vanilla almond kefir (optional)
1 tbsp PlanetHemp Protein Superfood Original
2 tbsp PlanetHemp Hemp Seeds
1 tbsp PlanetHemp Hemp Oil
1/2 cup filtered water
DIRECTIONS
Blend and enjoy!  Double the recipe and take one to go.
---