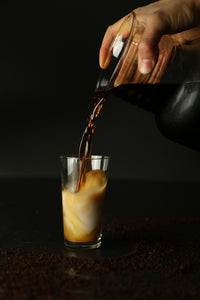 How to make Cold Brew Coffee
Cold brew season is a-brewin'….. (ha!)
If you don't know what cold brew is or if you never had it… it's time to try it so keep reading to change your life forever!
Cold brew is a concentrated form of coffee that can be mixed with either water or milk to create a delicious and refreshing cold drink! It's easy to make in just a few steps! You will wow your friends, yourself and honestly have some delicious coffee to enjoy in the warmer months that are about to hit!
The first step towards making your own cold brew is ordering a Toddy System. There are other ways to make cold brew, but they are a little messier and honestly not as smooth as this system!
How to make the Cold Brew Concentrate:
12 oz of ground Inferno Coffee
7 cups of water
Toddy Brewing system
time
Open your Toddy System and wash thoroughly
Insert the stopper into the outside bottom of the brewing container (the big white one)
Dampen your filter and fit to the smaller inside rim of your brewing container
Add 1 cup of your water and 6 oz of your ground Inferno coffee of choice
Slowly pour in circular motions the remaining 3 cups of water over the grounds
Wait for 5 minutes
Add your remaining 6 oz of ground coffee over your water
Finally, pour your last 3 cups of water into your brewing container, again in circular motions
DO NOT STIR the coffee ground and water *its tempting…but don't do it!
Lightly press the top of the coffee/water mixture with the back of a spoon to make sure all the grounds are wet
Brew your coffee for 12-24 hours at room temperature
After your 12-24 hours (24 hours is a great great brew), remove your stopper over the glass carafe allowing your coffee to flow into the container
Refrigerate up to 2 weeks
Serve 1 parts coffee to 3 parts milk or water!
Well first why not cold brew? Cold brew coffee is a rich way to gather the flavor from your beans and enjoy a deep cup of joe! Cold brew is just another option to fueling your routine! Cold coffee can have such a different flavor profile than the notes that are drawn from warm coffee. Not saying one is better than the other, just stating that cold brew is a great option for those warm days ahead!
Affogato with Cold Brew Concentrate:
If you are looking to add some flare to your already awesome cold brew, try a cold affogato! Traditionally this Italian dessert is a scoop of cold ice cream (gelato if you are in Italy) with a shot of espresso over the top! Personally, when its too hot outside like it gets in July, I pour my cold brew concentrate over my ice cream and its HEAVEN!  The ice cream and the coffee concentrate are perfect together! It's the best way  to zest your ice cream in the afternoon and fuel up for your night!
Cold Brew Concentrate Affogato:
Ice cream of your choice (Vanilla is a good base)
Cold Brew concentrate using your Inferno Coffee
Chocolate syrup
Brew your Cold Brew listed in the steps above
Scoop your ice cream into your vesicle of choice (options here, here, here, here)
Pour your concentrate over the ice cream
Enjoy with chocolate syrup or sprinkles!
---
---