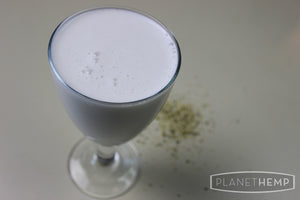 HOMEMADE HEMP MILK
Probably one of the easiest things you can make from PlanetHemp hemp seeds is raw, wholesome, vitamin packed hemp seed milk. It is a great substitute for dairy or soy that can be used in everything from your morning bowl of hot or cold cereal or smoothie to your cuppa caffeine. Plus it has 14 grams of protein!
INGREDIENTS
2 cups filtered water
4 tbsp PlanetHemp Hemp Seeds (or add more for a thicker milk)
DIRECTIONS
Blend in any blender for 1 minute. Simply leave in the blender as is for your smoothie liquid and add the rest of your ingredients, blend and enjoy! For a smoother milk, to use for all your favorite milk alternatives, simply strain with a nut milk bag (or use a clean pantyhose.) Sweeten to taste if you desire. Lasts in the fridge for 3 days.
Tip
Save the leftover hemp pulp to create a delicious hemp nut spread!
---