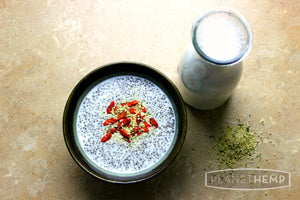 HEMP MILK CHIA PUDDING
Use this great chia and Hemp base, as a great thickening agent for your favorite recipes from baking to smoothies!
INGREDIENTS
1 cup Homemade Hemp Milk
2 tbsp Chia seeds
DIRECTIONS
Soak Chia seeds in Homemade Hemp Milk for 15 minutes.
Sprinkle with Goji berries and Hemp Seeds.
Enjoy!
YIELD
Makes 1 bowl.
---