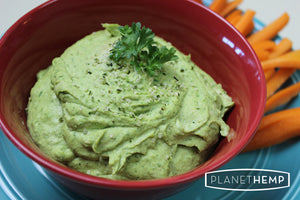 HEMP HUMMUS
This recipe is simply irresistible for everyone with a hummus obsession. Take your healthy addiction one step further by swapping out olive oil for Hemp Oil and adding Hemp Seeds to the mix.
INGREDIENTS
1 can chick peas
3 cloves of garlic
1/2 cup parsley (optional)
2 tbsp PlanetHemp Hemp Seed Oil
4 tbsp PlanetHemp Hemp Seeds
1/2 tsp salt
1/3 cup fresh squeezed lemon
2 tbsp tahini
DIRECTIONS
Pulse ingredients until blended to desired consistency.
---