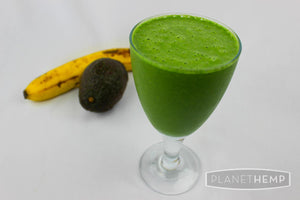 HEMP & GREENS MORNING MACHINE
This smoothie is like a sweet liquid salad in a glass. Avocado, or "God's butter" as it has been called, adds a really nice thick texture. Power packed with tons of nutrients, it leaves you feeling super healthy, clean and refreshed.  Double the recipe and take the second one for your lunchtime, or late snack.
INGREDIENTS
1 avocado
1 frozen banana
1 cup fresh or frozen strawberries
12 ounces frozen and thawed sweet peas
1 tbsp PlanetHemp Supergreens Original
1 tbsp PlanetHemp Protein Superfood Original
1½ cup Homemade Hemp Milk
½ cup pineapple
DIRECTIONS
Blend and enjoy!
---
---