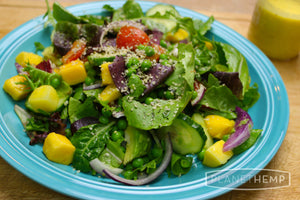 HEMP AND MANGO SALAD
This sweet mango salad is a perfect side dish to any meal or great on its own as a main. Add some mango dressing and sprinkle with hemp seeds for a super fueled power salad!
INGREDIENTS
2 handfuls of fresh salad greens
1 chopped tomato
1/2 chopped cucumber
1/4 chopped red onion
1/4 cup mangoes
Dressing
1/4 cup mangoes
3 tbsp PlanetHemp Hemp Oil
2 tbsp PlanetHemp Hemp Seeds
2 tbsp apple cider vinegar
1 tbsp honey (or other sweetener)
1/4 tsp cumin
1/4 tsp pepper
salt to taste
DIRECTIONS
Blend the dressing and pour over the salad! Sprinkle with Hemp Seeds. Enjoy!
YIELD
Serves 2.
---