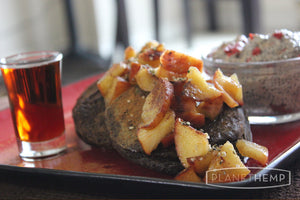 GLUTEN FREE PANCAKES
Tasty gluten free pancakes made with nutritious buckwheat flour. Pumpkin and mashed banana not only add a touch of sweetness but tons of flavor.
INGREDIENTS
1 ½ cups gluten free flour (rice, quinoa, buckwheat)
1 tsp baking powder
½ tsp baking soda
½ tsp sea salt
2 eggs beaten (*or an egg substitute)
½ cup Homemade Hemp Milk
2 tbsp coconut oil
4 tbsp pumpkin puree
½ mashed banana
*A great egg substitute is 2 tbsp of whole flax seeds, mixed in 4 tbsp of water and let sit for 15 minutes.
DIRECTIONS
Mix all the dry ingredients into one bowl and wet ingredients in another. Pour the wet into the dry and stir together gently. Heat 1 tbsp coconut oil in a pan and use a ladle to dollop on the batter. Serve with sautéed apples and cinnamon and a bowl of Hemp Chia Pudding.
YIELD
Makes 6-8 pancakes depending on the size.
---