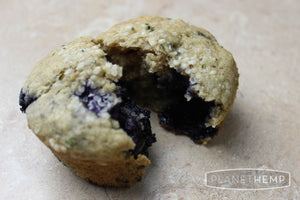 BLUEBERRY BANANA HEMP MUFFINS
Enjoy these super healthy blueberry muffins for breakfast, a snack or even for a quick hit of protein after a workout!
INGREDIENTS
3/4 cup (about 2 medium) mashed ripe banana
3/4 cup + 2 tbsp Homemade Hemp Milk
1 tsp apple cider vinegar
1/4 cup pure maple syrup
1 tsp pure vanilla extract
1/4 cup melted coconut oil
2 cups gluten free flour
5 tbsp coconut sugar
2 tsp baking powder
1 1/2 tsp cinnamon
1/2 tsp fine grain sea salt
1/2 tsp baking soda
1/2 cup PlanetHempHemp Seeds
1 1/4 cups frozen blueberries
DIRECTIONS
1. Preheat oven to 350°F and grease a muffin tin.
2. In a medium bowl, mash bananas and measure out 3/4 cup.
3. Place mashed banana into medium bowl along with the milk, vinegar, maple syrup, and vanilla and stir.
4. Melt the coconut oil in a small pot over low heat. Set aside.
5. In a large bowl, mix together the dry ingredients (flour, sugar, baking powder, cinnamon, salt, and baking soda).
6. Stir coconut oil into the wet mixture. Pour wet ingredients onto the dry ingredients and stir until just combined. Do not over mix.
7. Gently fold in the walnuts and then the blueberries, being sure not to over mix as this can result in dense muffins.
8. Spoon a heaping 1/4 cup of batter into each muffin tin, filling each tin about 3/4 full (they will be almost full, but this is normal).
9. Bake at 350°F for 25 minutes.
10. Cool in pan for 5 to 8 minutes and then transfer muffins to a cooling rack and cool for another 15 minutes.
YIELD
1 Dozen.
---