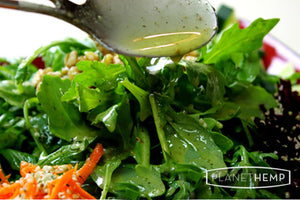 ARUGULA SALAD
Enjoy this fresh, peppery salad on its own or as a side to Butternut Squash Soup.
INGREDIENTS
1 tub or bunch of organic arugula
1 sliced cucumber
1 sliced avocado
sliced oranges for garnish
DIRECTIONS
Mix in a bowl and serve with our Basic Hemp Oil Dressing. Garnish with sliced oranges and sprinkle with PlanetHemp Hemp Seeds, pumpkin seeds or walnuts.
---