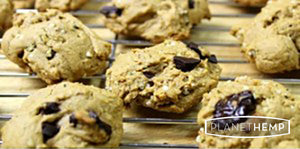 ALMOND HEMP COOKIES
These gluten free, vegan friendly cookies, are just as tasty as they are healthy. They are great for breakfast, a quick energy snack, or with a warm cup of Hemp Golden Milk or Hot Hemp Chocolate.
INGREDIENTS
Dry mix:
1 cup coconut flour
1 cup rice flour (or other flour of choice)
2 tsp baking powder
½ tsp baking soda
1 ½ tsp cinnamon
½ tsp sea salt
½ cup raw chocolate pieces or vegan chocolate chips
Wet mix:
¾ cup maple syrup
¼ cup almond butter
¼ cup Hemp Seed Butter
¼ cup PlanetHemp Hemp Oil
2 tbsp vanilla extract
1 tsp molasses
DIRECTIONS
Preheat oven to 350 degrees and line 2 baking sheets with parchment paper. In a large bowl mix all the dry ingredients together, then in another bowl mix all the wet ingredients. Mix wet to dry and only stir until its blended together. Roll into balls and flatten onto cookie sheet. Bake for 12 minutes.
YIELD
Makes 30 cookies approximately.
---